PDS Main Screen

CREATE: input the personal information text box, then click the "CONTINUE" button to save automatically and go next entry form. The system prompts a message, indicating those fields that are required to input data before saving and proceeding to the next entry form. (see screenshot below)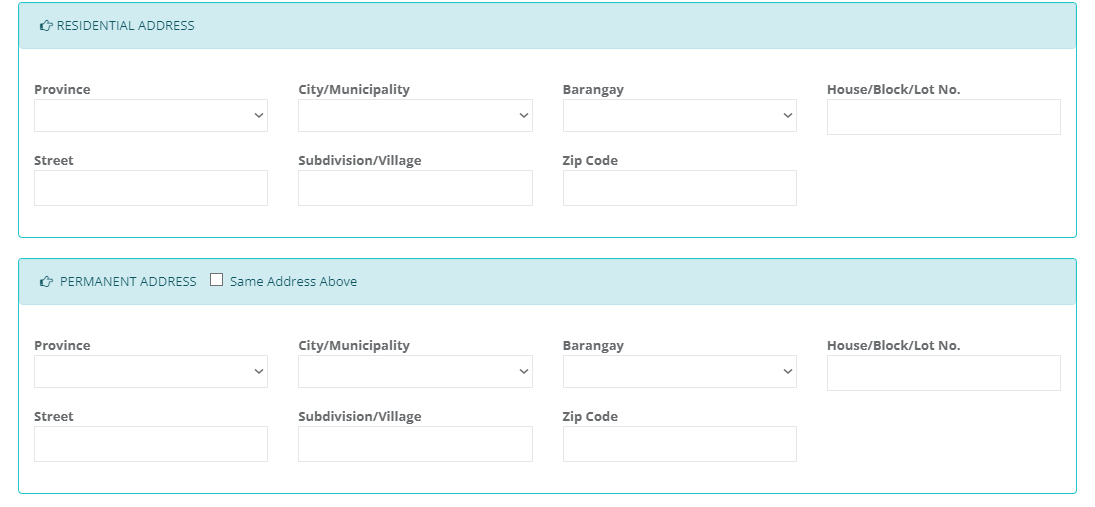 Input family background, then click the "CONTINUE" button to save automatically and go to next entry form. Note: click the icon list visible on the right side of the title to pop up the selection menu for the PDS category form. (see screenshot below)



Click "ADD" button to create an educational background and fill-up the entry field. The label dropdown list contains Elementary, Secondary, Vocational/Trade Course, College and Graduate Studies. For those levels with multiple entries, the first choice to be shown in PDS excel output must tick the Default checkbox and the succeeding entry must uncheck the default checkbox for attachment output. After the input is done click the Submit button to save the entry or Cancel to ignore the entry and return to previous screen. (see screenshot below)



Click "ADD" button to create a civil service eligibility and fill-up the entry field. After the input is done click the Submit button to save the entry or Cancel to ignore the entry and return to previous screen. (see screenshot below)



Click "ADD" button to create a work experience and fill-up the entry field. After the input is done click the Submit button to save the entry or Cancel to ignore the entry and return to previous screen. (see screenshot below)



Click "ADD" button to create a voluntary work and fill-up the entry field. After the input is done click the Submit button to save the entry or Cancel to ignore the entry and return to previous screen. (see screenshot below)


Click "ADD" button to create a learning & development and fill-up the entry field. After the input is done click the Submit button to save the entry or Cancel to ignore the entry and return to previous screen. (see screenshot below)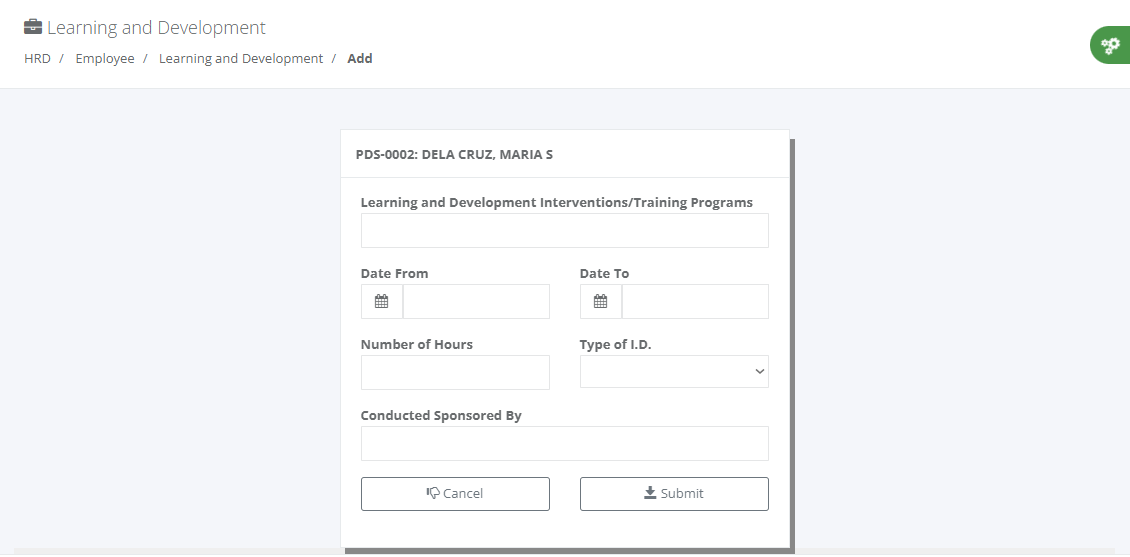 Fill-up other information in the text box, then click Add button to save or Remove to delete entries. After the input is done click the CONTINUE button to move next entry form or BACK to the previous screen. (see screenshot below)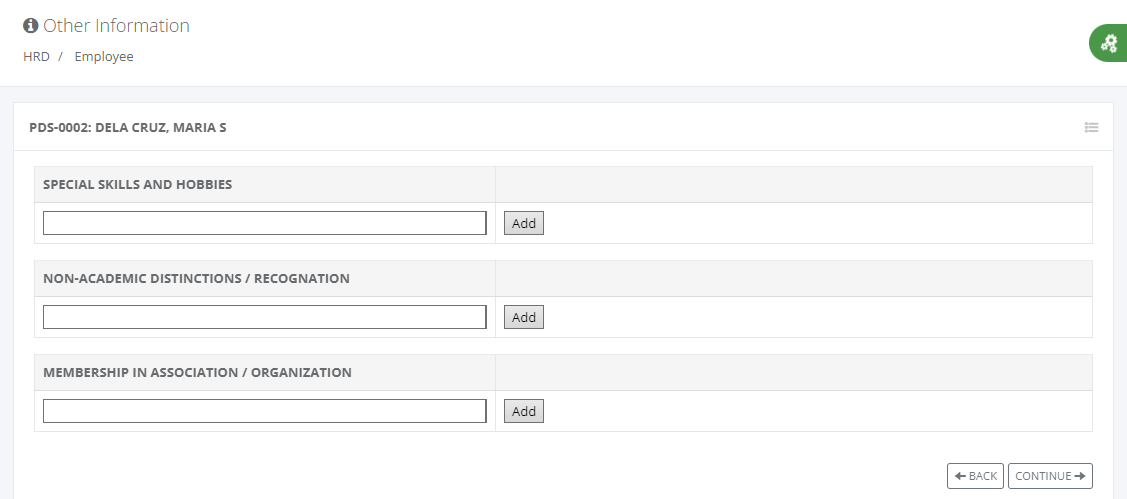 Fill-up the questionnaire after the input is done; click the SAVE button to move next entry form, which is 201 Files. (see screenshot below)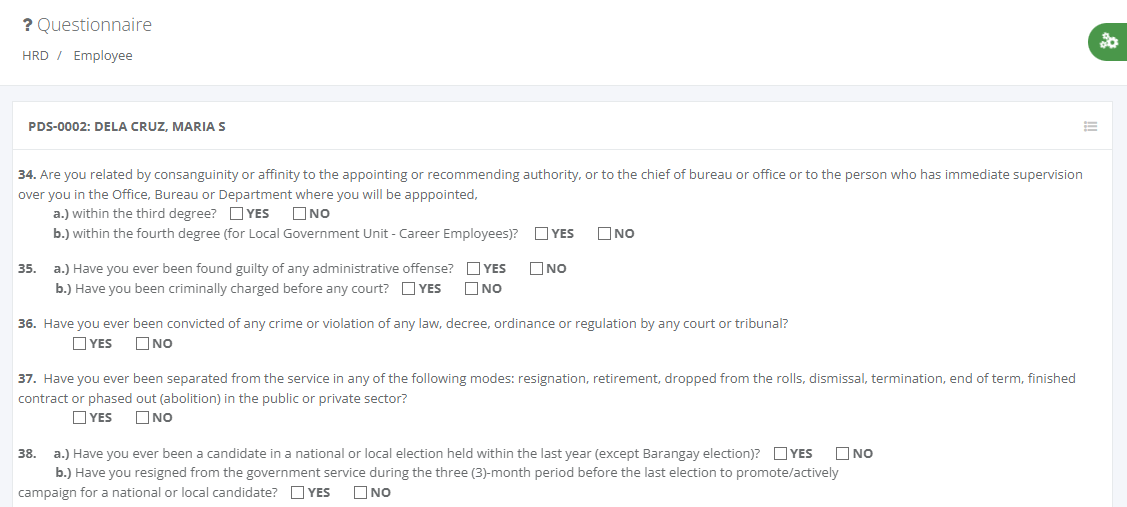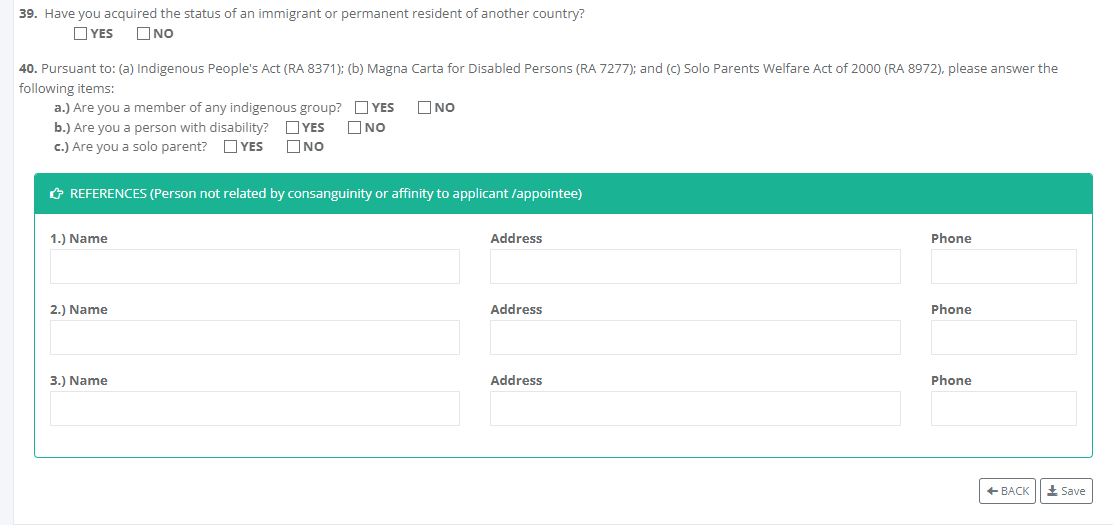 Upload the employee 201 files in pdf format and make the title and description related to the documents. In 201 files main screen the document file row items click the document title with hyperlink to view the pdf document. (see screenshot below)


Payroll setup is critical to the timekeeping and payroll process. Employment status should be "Active" if the employee is currently active. Tick the checkbox if the employees are required for monthly remittances like wtax, sss, gsis, pagibig, or philhealth.
Note: Account Login -> input a valid email address to notify employees via email after you click the Update button that the system checked the email address, not existing in the database, automatically sends an encrypted token for verification if the email is valid. Or the email address is existing in the database but not yet verified; the system re-sends a token for verification. Verified email account has a role access "Employee" and the default password is "Test_#143@". Click the link "Forgot password?" in login screen to change password anytime you want. (see screenshot below)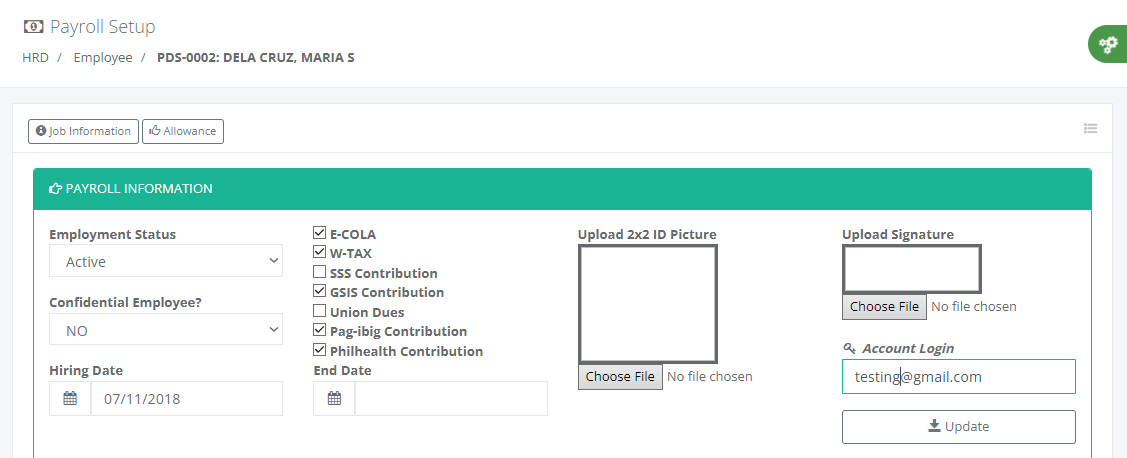 Job information should be a 100% correct input by HR staff because this is the basis of payroll computation. All fields are required except account number. Employee type of process is "Paperless", all forms are online filing like leave, overtime, locator slip, temporary shift schedule, broken time, failure In/Out, vacation leave request credit etc., that required approval by head department. Employee type of process is "Manual" all forms are hardcopy; the process of timekeeping is manual filing available in Time and Attendance module process by the timekeeper. Those employee "With Online Filing" checkbox is checked will not appear in a dropdownlist selection in timekeeper manual filing to protect the individual online filing.
Click the New Appointment Paper button if the employee has a new appointment or salary increase.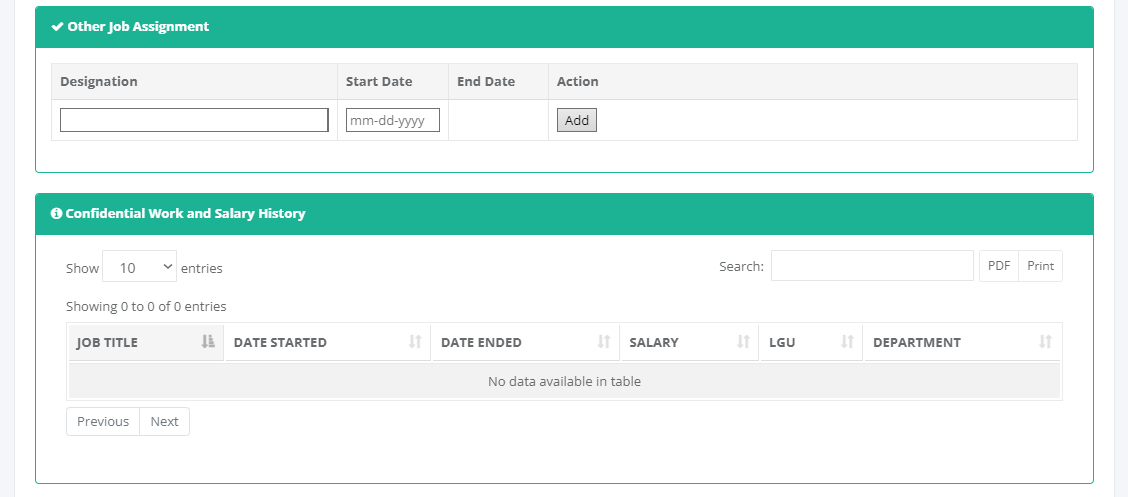 Allowances are separately identified payments made to an employee to cover expenses while performing their job performance. This module can add different types of allowances that are automatically computed in every payroll processing. (see screenshot below)